Don't forget! Only a few more days left to submit your entries to the Show Us Your Scream contest!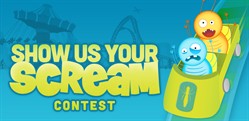 If you are like me (and like most others), you undoubtedly have your own pest-phobia. Well, instead of living with that little secret, you can now tell the world about it with NPMA's Show Us Your Scream Contest!
We (NPMA) wants pest-phobes to join together and take comfort in our unity. We want to show that it's okay to be fearful of pests. We want to capture the most harrowing, crazy, grossed-out reactions people have when they think about a pest crawling across the floor (or on the dinner table or in the bathtub or even across the bed).
Have you got a great scream inside you? Can your family show us a guttural reaction to creepy-crawlies? You will find all the details of the Show Us Your Scream Contest here. Show us what you've got! The winning entry will get to scream again – but this time for fun – with an all expense paid trip to an amusement park!