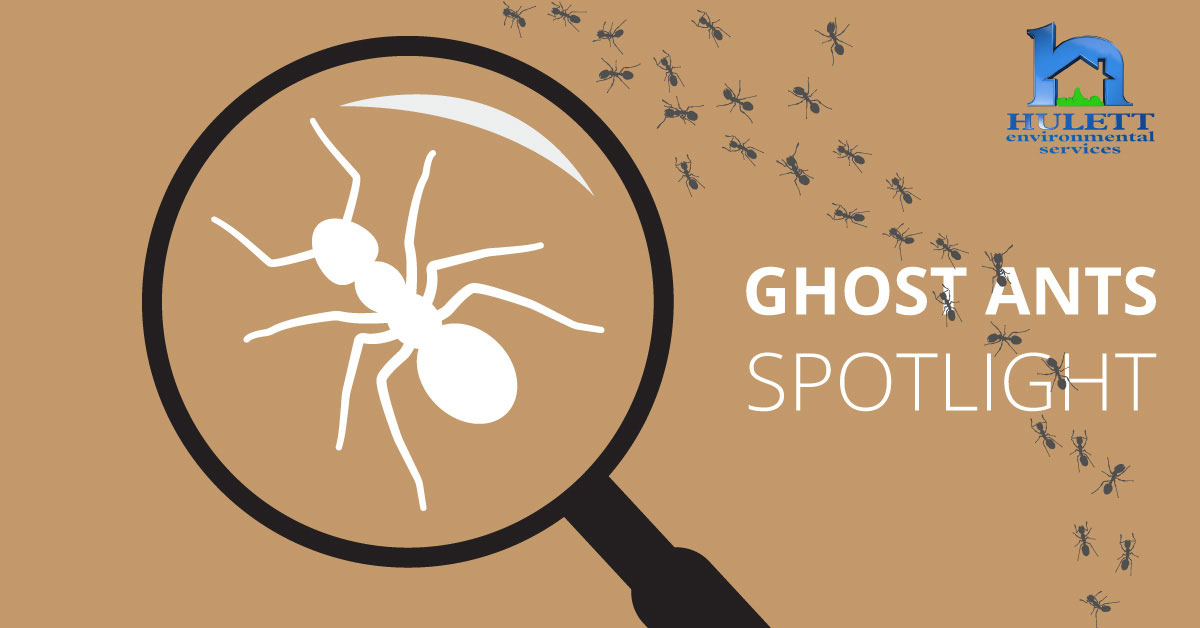 Ant Spotlight: Ghost Ants
Not really as spooky as they sound, ghost ants, Apinoma Melanocephalum, are an invasive species thought to originate in Asia or Africa. According to the University of Florida's (UF) Entomology and Nematology Department, one of the most prevalent and persistent ant species, "ghost ants are associated with a complex of ant species, known as tramp ants." It is an invasive species with widespread global distribution in tropical and subtropical regions.
Ghost ants introduced to South Florida most likely by boat in shipping containers
Introduced to the US in shipping containers and potted plants, ghost ants were well established in South and Central Florida as well as Hawaii by the early 1990s. They made their way to Texas by 1995 in a shipment of potted tropical plants from South Florida. Since then, ghost ant populations have been found in most southeastern states, as well as Arizona and California. Traditionally, ghost ants have only been found in northern climates in heated greenhouses and in one instance in an apartment block in Winnipeg on the Assiniboine River. However, with global temperatures rising, scientists predict that ghost ants and other invasive tropical species will likely spread north.
The scariest thing about ghost ants
According to a UF/IFAS (Institute of Food and Agricultural Sciences) study in South Florida, ghost ants now run a close second to fire ants as major nuisance pests. Unlike fire ants, ghost ants don't bite, sting or pose health threats to humans, but their tenacity and persistence have been known to cause mental and emotional distress to South Florida homeowners. Ghost ants infesting quarantine greenhouses have proven impossible to eliminate because of restrictions on using toxicants in these greenhouses. Ghost ants defending honeydew producing plant pests, such as aphids, against introduced biological control organisms present a problem for growers. Ghost ants in a Gainesville, Florida lab preyed on small beetle larvae and have been shown to be a significant predator of the two spotted mite in greenhouses. Aside from these minor benefits of ghost ants, they are one of the most prevalent nuisance pests in South Florida homes that you can't see.
Pale ants with secretive habits are a little spooky
Ghost ants get their name from the fact that they are extremely small, 1.3-1.5 mm, or .05-.19 inches. These tiny ants also sport pale legs and gasters or abdomens, with black thoraxes and heads, making them difficult to see. Ghost ants tend to trail behind carpet and along exterior foundations, building nests indoors behind wall voids, in spaces between cabinetry, around baseboards and between books on shelves. Outdoors, ghost ants prefer to build nests in moist soil, under rocks and in dead trees or other yard debris. Disturbed soil in potted plants makes an excellent nest for ghost ants as ghost ants are readily adaptable to many environments, as long as it's warm and moist.
No big surprise here, ghost ants like sugar
Preferring honeydew and honeydew-excreting insects, ghost ants will eat dried insects and also substitute their organic diet for your store-bought sugar and fruits. Baked goods, breads, spills in your pantry or just straight up sugar, ghost ants don't discriminate. Hmm… could this be the reason worker ghost ants, when disturbed, run around rapidly and erratically? Under normal circumstances, trailing ghost ants move in slow, deliberate lines. On closer inspection, researchers found that some of the workers were carrying larvae and pupae. Looks like someone's moving in.
Multiple queens can produce many offspring in a network of nests
Like most invasive ant species, ghost ants can build a network of nests underground but due to ghost ants' small size, these nests don't exhibit the stability to become mega-populations, like invasive termite species. Still, with multiple queens in a network of sub-colonies, eliminating ghost ants can be challenging to attempt without professional assistance.
Hulett Environmental Services Healthy Home Guarantee
At Hulett, we believe that exclusion is the best way to prevent all household pest infestations, including ghost ants. Along with some basic DIY pest prevention techniques, regular treatments by Hulett's entomologist–trained technicians, we create a barrier around your property that keeps pests out of your home. Using environmentally responsible materials and treatments whenever possible, Hulett's Integrated Pest Management (IPM) system, utilizes the most current technology and methods in household pest control in the industry today. Unlike other companies that merely use smelly sprays to eliminate ghost ant infestations, Hulett's programs have been developed from 45 years of experience. As a South Florida family-owned and operated business, Hulett provides responsible results that protect your home and family from Florida's extensive array of household pests.
Hulett treats the source of your ghost ant infestation
Hulett goes to the source of your ghost ant infestation. With odorless baits and liquid treatments, Hulett strategically targets ghost ant nests that may consist of multiple queens. When ghost ants track liquid materials or bring baits back to their nests, other ants will become contaminated until, eventually, the queens are killed, causing the colony to collapse.
A few DIY things you can do to prevent ghost ants from haunting your home
Make your home unattractive to ghost ants and other household pests, you can:
Regularly clean up crumbs, spills and table scraps from food prep and dining areas.
Store sugar, syrup and honey in metal, glass or hard plastic containers.
Keep sweet treats such as candy, cookies and other baked goods in secure containers or in the fridge.
Repair or replace leaky pipes and faucets.
Trim branches away from your home, cutting off routes of entry.
Maintain secure and sanitized outdoor trash receptacles.
Remove left-over construction materials and other debris from your yard.
Keep grass cut short.
Remove plants that attract aphids, whiteflies and other honeydew-loving insects.
With Hulett's convenient, regular preventative treatment programs, we guard your home against ghost ants and other household pests in Southeast and Southwest Florida. Contact us to schedule a free inspection today! Just call Hulett!