Lawn Spraying & Fertilization Services
A lush green lawn can be a source of pride, a beautiful backdrop for family gatherings, and a boost to your property value, and outdoor pest control can help keep your yard in peak condition. At Hulett Environmental Services, we offer a full array of lawn or yard pest control services, including specialized fertilization services, lawn pest, plant disease, and weed control.
Our experienced technicians are turf specialists who will inspect your lawn and identify the root causes of the issue. They will determine the best treatment plan to improve the health of your landscape. At Hulett, we offer:
Fertilization to lawn, ornamentals, and palms to help keep your landscape green
Weed control throughout your turf
Treatment for turf-destroying insects that can damage your grass
Measures to prevent lethal yellowing disease from spreading
Treatment for plant feeders that chew leaves on your ornamentals
Plant disease treatment for ornamentals and turf such as treatment for brown patch fungus and gray leaf spot
Trained lawn professionals that are up to date on the latest methods and treatments in the industry.
Guaranteed results for a visibly greener lawn you can enjoy!
Your Hulett technician will create a plan that will improve the health and appearance of your lawn. Treatment plans are based on the types of plants in your yard and any diseases, pests, or weeds that may be present. Quickly addressing lawn problems is crucial to preventing lawn death.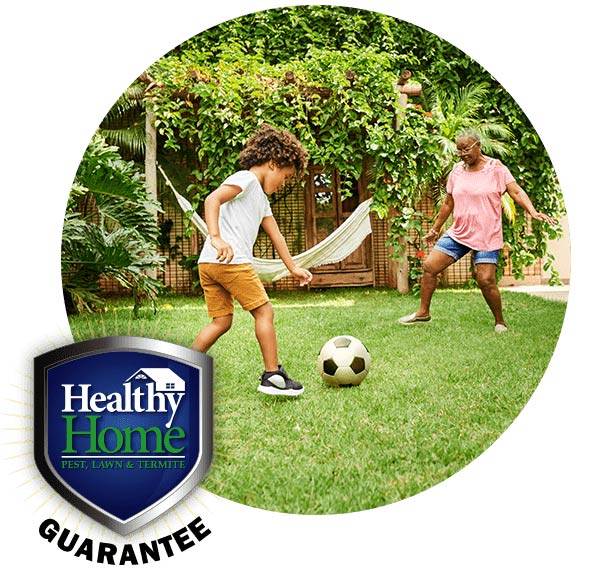 Lawn Spraying and Fertilization Discounts & Coupons
Common Lawn & Shrub Pests
Home and business owners of South Florida should be aware of the many different types of pests that can invade a structure or property and potentially cause damage, illness, and injury or irritation to humans and pets alike.
Hulett's Lawn And Shrub Treatments Offer:
Seasonal fertilization and weed control based on your lawn and ornamental needs.
Dedicated equipment to prevent cross-contamination that leads to unhealthy lawn and shrubs.
Trained lawn professionals that are up-to-date on the latest methods and treatments in the industry.
Guaranteed results for a visibly greener lawn you can enjoy!
Best of all, a well-maintained lawn discourages pests from coming near your home; such as, ants , fleas, ticks, chinch bugs, fig whitefly, spiraling whitefly, aphids, worms and many other lawn, tree and shrub pests!
We also offer mosquito yard treatment, which can be crucial in South Florida, where these bugs can render your yard unusable. A multi-pronged, targeted approach is best for eliminating pest infestations or pest prevention. Many homeowners are tempted to "bomb" their yard with treatments, but a targeted approach is best. A plan to improve the long-term health of your yard will make it less vulnerable to pest activity.
Lawn Maintained in Peak Condition
There are many reasons to choose Hulett to keep your South Florida lawn in peak condition. We have the right combination of equipment, methods, and practices to provide you with the best lawn spraying. Learn More 
Pests in South Florida can harm your lawn, ornamentals, palms, and other plants, and adequate lawn or yard pest control must include measures to manage these pests. There is a range of pests that can damage your lawn: Learn More 
In South Florida, turfgrass grows all year long and requires maintenance throughout the year to look lush and verdant. Your lawns, plants, shrubs, and trees all require fertilization to thrive. Specialized fertilization services provide many benefits for your yard. Learn More 
Proper fertilization, mowing, watering, and pest control help create a healthy, dense turf that is more resistant to weed infestations. It's important to find the right balance of these lawn management practices, in addition to limiting traffic on your lawn, to prevent weeds. Learn More 
Schedule Your FREE Inspection
If you notice signs of lawn pests ruining your landscape, contact Hulett Environmental Services today. Our technicians are experienced with addressing all the problems South Florida lawns may experience. Just Call Hulett!
Frequently Asked Questions About Lawn Spraying Fertilization With Hulett
Why should I choose Hulett Environmental Services for my Florida lawn?
Because we provide the finest in lawn fertilization and pest control! From spraying for weeds and providing tailored fertilization services to providing eco-friendly lawn pest control, our team of expert technicians at Hulett offers the best lawn fertilization services in Palm Beach County and the Treasure Coast. With more than 50 years of experience under our belt, what makes us different is that we won't rest until your lawn care needs are resolved and settled.
Do you provide lawn fertilization throughout the year?
The short answer is that we do! Every lawn requires care and maintenance throughout the year and lawns in south Florida are no exception. With our expert and experienced team of technicians equipped to provide you with quality lawn fertilization and pest control throughout the year, you can ensure your lawn is at its best during all seasons.
What pests do you provide lawn pest control for?
For home and business owners across Palm Beach County and the Treasure Coast, Hulett can help control many lawn pests in the area. Make sure to contact our team of expert technicians at Hulett if you see or suspect one or more of the following in your Florida lawn to receive a free inspection: 
What weed control services do you offer for Florida lawns?
At Hulett Environmental Services, we provide a variety of weed control services to remove weed issues for lawns across south Florida. Whether you need a spray for weeds or fertilization to promote grass growth, we'll be there to provide whatever you need to control and prevent weeds from your Florida lawn.
Where do I go to get Florida lawn fertilization services?
It's never been easier to request the best lawn fertilization services in Florida. All you have to do is just call Hulett! You can begin by finding your nearest Hulett service office online. From there, schedule your free inspection through our online contact form. We'll be more than happy to treat your Florida lawn for you.