Florida has tropical climates as the southernmost region of the continental United States. Its stunning beaches, diverse culture, and vibrant nightlife make it a popular tourist destination. While many visitors enjoy the beautiful weather, south Florida attracts unwanted lawn pests like chinch bugs, grubs, sod webworms, and fire ants due to its warm and humid climate.
Hulett Environmental Services offers a range of effective pest control treatments to keep your lawn and property pest-free. We provide high-quality lawn pest control services to protect your home or business from potential damage. Contact us today to schedule a free inspection by phone or online form!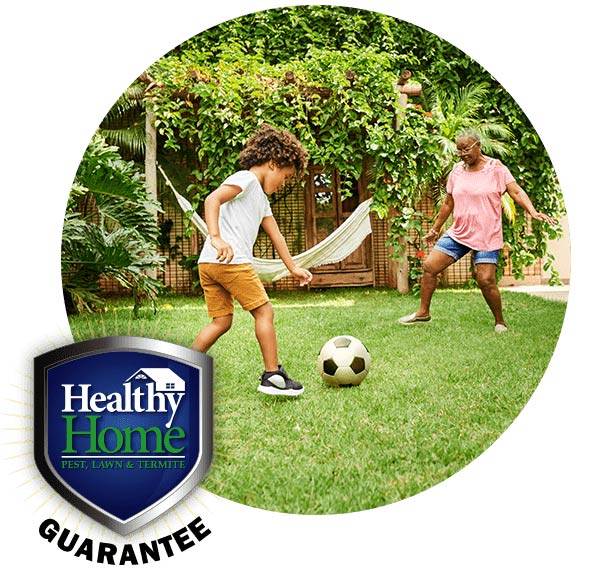 Lawn Spraying and Fertilization Discounts & Coupons
Identifying a Lawn Pest Infestation in South Florida
Identifying a lawn pest infestation in south Florida can be vital to maintaining a healthy landscape and a lush lawn. Common lawn pests that can cause damage to properties in Florida include chinch bugs, grubs in lawns, sod webworms, and more.
Signs of a lawn pest infestation may include thinning or yellowing patches of grass, brown patches, or soft spongy areas of grass that appear to have root damage. Other serious signs of a lawn pest problem may consist of holes in the leaves and chewed-off spots from caterpillars. For fire ant and mosquito infestations, run-ins with these biting, bothersome pests are the most common signs it's time to call in the experts. Fortunately, with the help of the Hulett team, you can get even earlier detection of lawn pests and help through a variety of green, eco-friendly pest solutions, including chinch bug treatments, lawn grub treatments, fire ant control, mosquito control, and more.
Getting Rid of Lawn Pests in South Florida
Don't wait for treatment if you suspect lawn pests in your Palm Beach County or Treasure Coast home or business. If left untreated, lawn pests can cause costly property damage and leave your lawn struggling to regain its health. At Hulett, we have the tools and expertise to identify lawn pest infestations and devise a comprehensive treatment plan. But a healthy landscape isn't just about the grass or turf. Hulett offers custom programs to also fertilize and protect your bushes, shrubs, palms, and hedges against aphids, scales, mealybugs, whiteflies, and more. Plus, our products are pet and people-friendly, allowing you peace of mind regardless of the lawn and outdoor pests you're battling.
Lawn Pest Prevention and Control
With Hulett Environmental Services, you can ensure a pest-free property with our customized preventive pest control treatments. These treatments help deter even the most prolific and hard-to-detect lawn pests. Additionally, our lawn spraying and fertilization services can help provide the nutrients your lawn needs to better withstand the pressures of weeds, disease, insect pests, overwatering or underwatering, harsh sunlight, and tumultuous weather conditions. Our highly trained lawn pest professionals can also help provide you with lawn maintenance and landscape planning tips to help you keep your yard in the best possible condition.
Keep a Healthy, Pest-Free Home With Hulett Environmental
When you need a hand getting effective lawn pest control solutions, rely on Hulett Environmental Services! We've been in the business of home and lawn pest control for over 50 years and are experts in treating south Florida lawns. If you would like to schedule your free inspection, give us a call or complete our online form now! For your convenience, we provide weekend and same-day services in south Florida.