It's no secret that mosquitoes are a nuisance and can ruin a backyard barbecue in a matter of seconds. They carry serious diseases, such as malaria, dengue, West Nile virus, Zika virus, chikungunya virus, and even dog heartworm. However, mosquitoes don't have to be a permanent presence around your property. At Hulett Environmental Services, we provide long-lasting mosquito control solutions for your home or business.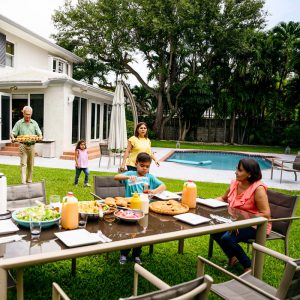 Mosquito Control Discounts & Coupons
Hulett Environmental Services has more than 50 years of experience with pest and mosquito control in South Florida. Take advantage of these discounts while they're here and start enjoying your time outside itch-free!
Types of Mosquitoes in South Florida
There are many types of mosquito species that reside in south Florida. These include the yellow fever mosquito, the malaria mosquito, the saltwater marsh mosquito, the Asian tiger mosquito, and the common house mosquito. All of these mosquitoes can be harmful to humans and pets, as they can carry diseases (endemic and exotic) and cause painful bites. Protect you and your loved ones from these pesky creatures with mosquito control services at Hulett.
Yellow Fever Mosquito
The yellow fever mosquito varies in size from 4 to 7 millimeters. They can be identified by their black body with white patterns on their back. They prefer tropical or subtropical climates, which is why Florida makes a great home for them. These mosquitoes are most likely to bite during the day and rest at night. As evident in their name, this type of mosquito can transfer diseases, especially yellow fever.
Common House Mosquito
The common house mosquito, also known as the Culex Pipiens, ranges from 4 to 10 millimeters. These mosquitoes are everywhere and are nocturnal. Additionally, this type of mosquito is responsible for spreading a variety of diseases each year, especially the West Nile virus. A bite from one of these mosquitoes can be painful and itchy.
Commercial Mosquito Control
Mosquito infestation can disrupt many things, especially a place of business. Whether you have a restaurant, entertainment venue, store, or hotel, mosquitoes can get in the way of happy guests. At Hulett, we have a wide selection of mosquito control services including micro-encapsulated residual products, insect growth regulators, and preventive pest control treatments. We also have ultra low-volume foggers for outdoor events to repel mosquitoes.
Residential Mosquito Control
Our team of pest control professionals at Hulett provides effective pest control solutions for your south Florida home using green, sustainable, and eco-friendly products that are applied by trained technicians. We'll first provide a free initial inspection to search your property for signs of infestation and provide a customized treatment plan. Based on the level of infestation, we'll apply specialized products and insect growth regulators, helping give you fast and long-lasting residual control.