Mosquito Reduction Services
When mosquitoes become more than just a quick slap annoyance, and they've invaded your personal outdoor spaces in such numbers that you, your family or pets can no longer enjoy time outside in South Florida…it's time to just call Hulett for mosquito control near you!
There are over 3,000 species of mosquitoes, some of which may carry and transmit infectious diseases when they bite. These are the mosquitoes that many people are concerned about, the ones that can affect you and the ones you love. If you live in South Florida, finding proper mosquito control services near you is imperative, not only for your comfort but also for the safety of your pets and family.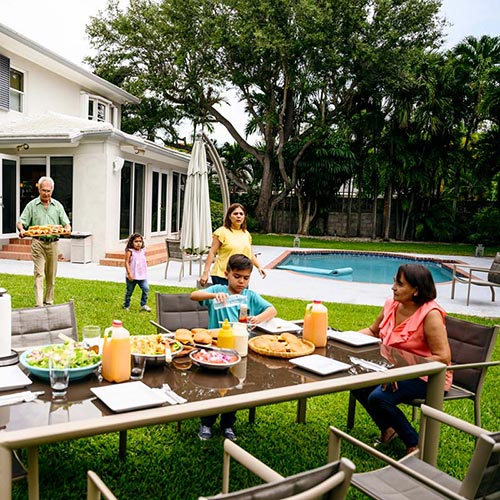 Mosquito Control Discounts & Coupons
Hulett Environmental Services has more than 50 years of experience with pest and mosquito control in South Florida. Take advantage of these discounts while they're here and start enjoying your time outside itch-free!
Start Enjoying a Mosquito-Free Yard, Patio, or Pool!
Mosquito-borne diseases are becoming more common as these insects develop resistances to store-bought products like DEET spray and citronella candles. The number of reported cases of West Nile Virus infections has also steadily increased in recent years, making it that much more important to protect your home from mosquitoes.
While screen enclosures and "mosquito machines" may act as a deterrent, they are not always the most effective, especially if an important outdoor celebration is planned.
When it comes to proper mosquito control, South Florida poses many unique challenges to home and property owners. With a temperate climate year-round and high-humidity, the region is the perfect breeding ground for the insects. Additionally, many homes have pools and many communities have bodies of water and small ponds which can further attract the bugs. If you're looking for the very best mosquito control near you, call Hulett Environmental Services today.
Mosquito Control in South Florida
Effective mosquito control is imperative in South Florida. Without year-round control, mosquitoes get the opportunity to breed on your property. And with warm temperatures nearly year-round, your yard is the ideal environment for mosquitoes to lay their eggs. Some species of mosquito can complete their lifecycle in just four to seven days, meaning the number of insects on your property can multiply very quickly without effective and recurring mosquito spraying in South Florida.
You need a protective barrier to keep your family safe from mosquitoes and the diseases they can carry. And, to stop the annoying buzzing and itchy swollen bites they can cause. South Florida is famous for its beautiful scenery and tranquil yards–don't let mosquitoes ruin your experience. Call Hulett Environmental Services for mosquito control near you today.
Using Do-it-yourself repellents like DEET can help offer some relief, but it doesn't address the mosquito problems on your yard because they do not force the mosquitoes away or treat the breeding areas in the landscape. Instead, they only help reduce biting. But you still have to hear the annoying buzzing and apply products directly to your skin and clothes. So although this approach can certainly help prevent biting, it doesn't help reduce the mosquito activity on your property. And if you are being bitten by mosquitoes near your home, odds are these insects are breeding nearby.
Our trained and certified applicators will protect your home in a few simple steps.
We will evaluate your property to identify problem areas.
We will apply a micro-encapsulated residual product to help knock-down current activity.
We will apply an Insect Growth Regulator to key areas where mosquitoes rest to help reduce activity moving forward.
After a thorough inspection in and around your property to identify the areas where mosquitoes like to hide or use for breeding, the expert from Hulett will treat those areas with a residual product designed to stick to all those places where mosquitoes rest during the daytime hours. This will create an effective and protective barrier between your loved ones and these pesky insects, helping to prevent them from entering your home or from ruining your next evening on the patio.
For an outdoor event, Hulett has another effective tool in its pest control arsenal to cover larger areas. Hulett's Mosquito Fogging Services use Ultra Low Volume (ULV) foggers to combat and deflect adult mosquito populations outdoors — from backyards to community common areas, condominium properties to businesses — anywhere people may want to gather to enjoy the beautiful South Florida lifestyle.
Why Choose Hulett for Lasting Relief
When searching for mosquito control near you, you need a company that specializes in the environment and communities they treat. At Hulett, we have operated exclusively in South Florida for more than 50 years. Additionally, when our trained and certified applicators visit your home and complete mosquito spraying in South Florida we will take the time to educate you and your family on pest and insect control.
Our team will spend time teaching you what you can do in-between treatments to help keep mosquitoes at bay and we will develop a comprehensive plan for routine maintenance to help with mosquito control all year long. We have a board-certified entomologist on-staff to help identify any other pests or insect populations that may be present and to address your unique mosquito control needs.
Areas We Serve for Mosquito Control in South Florida
Hulett is proud to serve the entire region of South Florida, offering premier mosquito control services near you. We currently serve the following cities as well as the surrounding areas: West Palm Beach, Fort Pierce, Port St. Lucie, Palm Beach Gardens, and Vero Beach.
If you are looking for mosquito spraying and control services in South Florida, contact Hulett Environmental Services today.
If you are in need of mosquito spraying in South Florida, don't wait. Contact Hulett Environmental Services today. We will send a trained inspector to your home for a FREE inspection with absolutely no obligation. Specializing in pest control, termite control and lawn spraying and fertilization, our friendly representatives will help develop a comprehensive plan for year-round mosquito control, and evaluate your home for any other signs of pest and insect invasions.
When you live in South Florida, you deserve to relax outdoors in peace. Whether it's on your patio, by the pool, or in your front lawn, you should never have to worry about mosquitoes. Don't get forced inside by these pesky bugs. You do not have to live with a mosquito invasion. We can bring the very best in mosquito control, so that you can spend more time enjoying the outdoors with your family and less time worrying about these itch-causing, disease-carrying insects.