The captivating beauty of south Florida's natural environment, combined with its delightful weather, establishes a sanctuary for a wide variety of pests, including highly destructive drywood termites. Termites are a particularly challenging pest to battle, as they can create massive property damage while remaining virtually undetectable to the untrained eye.
To help stop a burgeoning drywood termite infestation or eliminate an established one, professional termite control is necessary. Fortunately, Hulett Environmental Services offers several different treatment options, depending on the scale and details of your infestation. To find out what treatment option is right for you, schedule your free termite inspection with Hulett.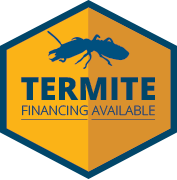 Identifying a Drywood Termite Infestation in Palm Beach County
No more than one-half inch long, drywood termites are identifiable by their pale to reddish brown color and, in some instances, wings that extend past their bodies. Typically active in the warmer months, these social insects swarm to create new colonies in wood or wooden structures. 
Able to survive with little to no moisture, drywood termites commonly reside in attic frames, roofing structures, flooring, baseboards, furniture, window frames, door frames, and under arches or balconies. Some signs of a drywood termite infestation are fecal pellets or swarms near wooden structures. However, termites can be extremely hard to detect, so not spotting these signs, unfortunately, doesn't necessarily mean your home isn't affected by termites.
Tentless Drywood Termite Treatment in South Florida

Typically a tentless treatment is used for isolated termite infestations where the infestation is newer, and in a localized area of the home that is easily accessible. The no-tent method is an exceptional substitute for traditional methods like fumigation, which are generally more disruptive to homeowners, for smaller termite infestations.
Hulett's no-tent termite control specifically targets the distinctive behaviors of drywood termite species found in south Florida. In contrast to fumigation or tenting methods, residents do not have to vacate their homes for multiple days for this method of eradication.
Our skilled technicians will treat the attics, voids near exterior doors and windows, voids with termite evidence, and other areas of activity that are found during the inspection, such as baseboards, flooring, and wooden beams. The technicians will also treat common access points to minimize the likelihood of another infestation.
Tent Fumigation for Termite Control in Palm Beach County
Since drywood termite infestations can be incredibly hard to access and detect, termite tenting is sometimes the best choice for your home or business. Because the tenting process is more disruptive than tentless termite treatments, termite tenting is usually reserved for severe infestations where termites can be found throughout the structure.
Tenting a House for Termites
At Hulett, we make sure we send our best technicians to handle your drywood termite infestation. We've helped tent countless homes and businesses in the south Florida area, so when you call us, you know you're in good hands.
To ensure the well-being of yourself and your family, we require that any resident or pet vacate the residence for at least three days. The timeline of the fumigation process can vary depending on factors such as house size, weather conditions, or the extent of infestation.
Additionally, some preparation is required when receiving a tent fumigation treatment, as well as some recommended practices following the tenting process. Although termite tenting may seem invasive, as one of the top 25 pest control companies nationwide, we are confident in our ability to eradicate drywood termites from your property, making the process worthwhile.
Termite Control Discounts & Coupons
Keep a Healthy, Termite-Free Home With Hulett Environmental
Hulett Environmental Services provides free termite inspections and consultations without any obligation. While we're the home of the no-tent termite treatment, we're proud to offer a wide range of termite treatment solutions, including full tent fumigations. Don't wait for a termite infestation to destroy your property when you can transform your home into a Hulett Healthy Home today.
We understand that pests are active at all times, which is why we offer our services during evenings and weekends. Moreover, we handle same-day inspections to ensure your home remains free from pests.Schedule your free inspection today, and for any questions or concerns regarding pest control, just call Hulett! If you're looking for a preventive solution for safeguarding your home against termites moving forward, don't hesitate to speak with us about our annual termite renewal program.