The warm Florida climate provides an ideal environment for a variety of termite species, and homes, unfortunately, provide the ideal food source for them as well. Fortunately, Hulett Environmental Services offers a myriad of highly effective termite control and treatment solutions, including Sentricon baiting and liquid treatment options for Subterranean Termites. 
Since every termite infestation is different and requires a different approach for full treatment, the termite treatment process should start with a total inspection and identification of the infesting termite species. Fortunately, Hulett Environmental Services offers just that, with no charge for the initial termite inspection! With over 50 years of experience working with one of south Florida's most destructive pests, we have the termite identification and control expertise you need. Just call Hulett today to get started.
Termite Control Discounts & Coupons
Hulett's Termite Baiting Treatment Solutions
There is no need to kill your grass in order to remove your subterranean termite infestation issues. We use the premier Sentricon baiting system, which non-invasively  targets termites, making it the ultimate pet and eco-friendly termite treatment. This system works by baiting worker termites to feed on the bait, attract others to feed, and, ultimately, causes them to bring the bait back to their home colony, destroying it.
Effective Termite Control With Termite Baiting
During a termite baiting treatment Hulett will install Sentricon bait stations where subterranean termites forage looking for food containing cellulose, namely wood and trees. Once the termites find a bait station, they recruit the colony to feed, and pass the product throughout the colony during their social interactions, resulting in complete colony elimination by eradicating the queen. In some scenarios where fast acting results is the focus, a liquid termite barrier could be recommended depending on the infestation. 
The best news of all? Hulett's termite treatments are least disruptive, and neither will negatively impact the health of the lawn. With these non-invasive subterranean termite control options, termites can be truly out of sight and out of mind!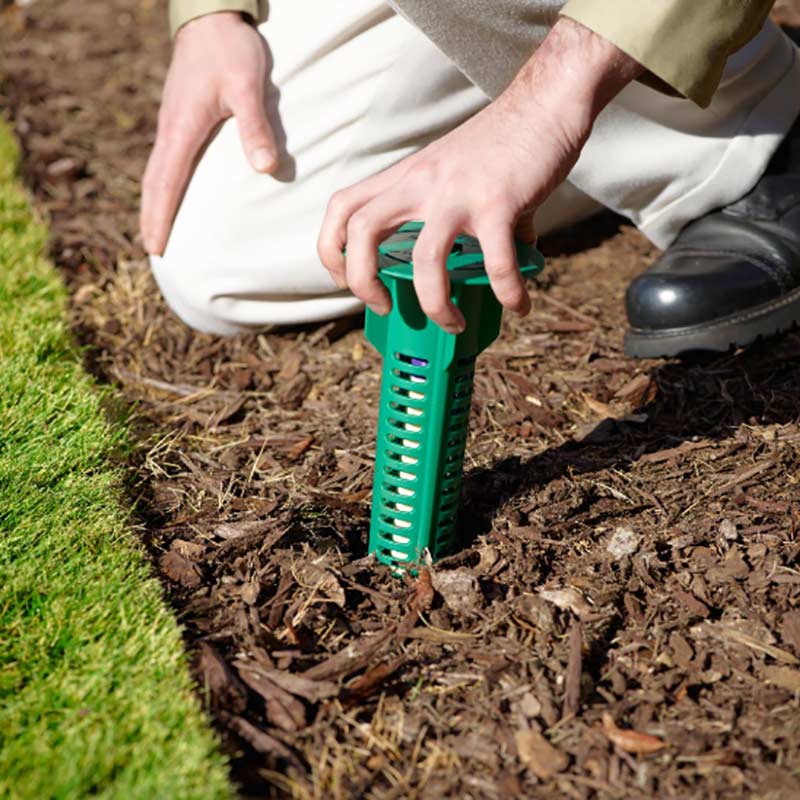 Getting Rid of Termites in South Florida With Liquid Treatments
Hulett Environmental Services offers effective liquid treatment solutions to eliminate and prevent subterranean termite infestations in south Florida. This method utilizes advanced liquid termiticide to create a barrier around the home's foundation. These liquid treatments are generally applied through trenches into the soil, targeting termite colonies living underground and creating a barrier around a building's foundation.
Hulett's Liquid Termite Treatments
Our liquid defense system exterminates subterranean termites as they try to crawl from the soil into your home when you have a subterranean termite infestation, or the treatment can also be done as a preventive measure. Designed for utmost effectivity, termites cannot taste, smell, or detect these liquid treatments, causing them to pick up the product and be controlled.
Hulett's Subterranean Termite Liquid Defense eliminates subterranean termites in the harshest climates, environments, and conditions. In addition, we use family- and environmentally friendly methods that are harsh on termites but leave minimal impact on the environment, so you don't have to worry about creating unnecessary hazards while we're applying a liquid termite treatment applied around your property. These treatment options are also not harmful to your lawns and landscaping.
Each of our service technicians are trained by a Board Certified Entomologist
Over 50 years of experience in termite control in South Florida
Family-Owned Pest Control Business
Products will not harm your lawn or landscaping
Liquid termite defense can eradicate even extensive infestations
Creates a total barrier around your home, helping prevent termite re-entry
Keep a Healthy, Pest-Free Home With Hulett Environmental
As one of our methods for a Hulett Healthy Home, we offer baiting and liquid termite treatments to protect your home and property. Countless homeowners have worked with us to defeat potentially devastating subterranean termite infestations, and our expert team is here to help you as well.
Call or fill out our online form now to schedule your free inspection. We offer same-day and weekend service in south Florida for your convenience. Following our highly effective termite baiting or liquid treatments, we also offer preventive termite treatment options with our annual termite renewal program, to help safeguard your property moving forward.