You have a choice when it comes to South Florida home pest control services and when unwelcome pests invade your home, just call Hulett to the rescue! We've been in business more than 50 years, operating exclusively in South Florida. That means that we know what residential pest control problems arise most frequently, as well as how to effectively eradicate them and prevent them from recurring in the future.
Throughout South Florida, every day more families have discovered that having a Hulett Healthy Home is the best way to protect their homes, families, and pets from undesirable, invasive South Florida pests. When it comes to pest control, South Florida homes require a special approach. Due to the warm temperatures and damp climate, many pests love to make their homes inside houses and property. Don't let these pests invade your space. Hulett Environmental Services is here to help.
The advanced Hulett Environmental Services Healthy Home Program is designed to help you keep your family and the environment protected. By using pet friendly and environmentally responsible pest control materials and methods, Hulett helps maintain all the comfortable living spaces both inside and outside your home.
Pest Control Discounts & Coupons
South Florida's Most Common Pests
Home and business owners of South Florida should be aware of the many different types of pests that can invade a structure or property and potentially cause damage, illness, and injury or irritation to humans and pets alike.
Pests Have No Defense Against Hulett's Home Pest Control
Every Hulett employee treats your home as if it was their own. With their extensive experience, they take all the necessary precautions to strategically place the pest control materials in and around the living areas. By creating and then maintaining a protective barrier, they shield your family from the invasive and potentially harmful pests that may try to invade your home all year round. And Hulett doesn't just offer Pest Control Services, we are your one-stop-shop for Termite Control and Lawn Spraying & Fertilization too!
Ants, cockroaches, spiders, and many other pests are never welcome in a Hulett Healthy Home — Guaranteed or your money back!
Our Pest Control Benefits
Environmentally
Responsible
Graduate Entomologists
on Staff
Locations Across
South Florida
Guaranteed Effective
Solutions
24-Hour Service
Including Saturdays
Hulett Pest Control Services
There are countless other benefits to choosing Hulett Environmental Services as your pest control company of choice. Not only are inspections always FREE without any obligation, but we also provide advice online. You can head on over to our "Ask the Expert" portal and upload any pictures you may have of areas in question. If you suspect that an area of your home is damaged due to pests, or are wondering what that bug you have never seen before is, simply upload a picture to the portal and our Entomologist will get back to you shortly. This makes the home pest control process even easier than before.
At Hulett, we know that pets are part of the family, so we treat them as such. This is one of the many reasons we take pride in our training and procedures, and use family, pet and environmentally friendly products. Set your worries aside, we use strategies and pest control treatments that are pet friendly. Learn more »
At Hulett, we understand the importance of being environmentally responsible, and we understand that South Floridians are looking for an Integrated Pest Management approach that focuses their efforts on inspection, finding harborage areas, food and water sources, and finding the specific areas or nests where the insects are hiding. Our certified applicators are trained to inspect, identify the specific pests, and make direct treatments with pest-specific products to where the insects originate…outside. At Hulett, we use green and organic home pest control methods, and will focus our eradication efforts on the exterior. By utilizing a combination of liquid repellents and exterior baiting, Hulett can protect your home from invasion and decrease the pest pressure by supplying an external food source that will also help control the colonies. Learn more »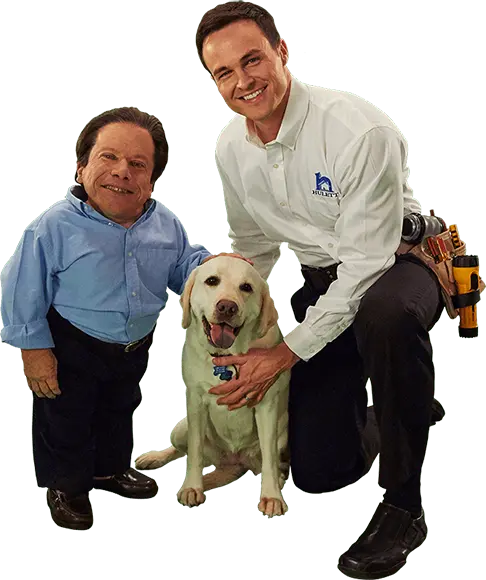 Our Process
At Hulett Environmental Services, our home pest control service is targeted and individualized for your home and property's unique needs. When you schedule a FREE inspection with Hulett, we will have a pest control expert arrive at your home at a time that is convenient for you to provide a comprehensive inspection.
Our pest control experts will examine:
The inside of your home, looking for signs of pest droppings, nests, and damage.
Common entry points for pests, such as doors, windows, and baseboards.
The exterior of your home, including the foundation around your house, the patio, any exterior dwellings such as standalone sheds, and more.
Various elements around your property, such as landscape and ornamental greenery, turf, standing water, wood collections, and more.
Interior Residential Pest Control
Hulett's interior home pest control consists of several elements. First, we inspect your home to look for signs of infestation or damage. Learn More 
Exterior Residential Pest Control
At Hulett, we offer a unique exterior residential pest control service. Our exterior service consists of treatment to the perimeter and to common insect entry points of the home. Learn More 
Pest Control Service Areas
Our locations include our corporate office in West Palm Beach, as well as offices in Fort Pierce, Vero Beach, Palm Beach Gardens, and Port St. Lucie.
Hulett Environmental Services is the South Floridian pest control service of choice. We have offices in major metropolitan areas so that we can dispatch expert technicians and applicators to your home or business in a timely manner.
Wherever you are located, we can effectively treat your home or business, protecting you against insect infestations, pest invasions, and providing premier lawn care services. Not only will we treat any existing issues but we will also help develop a preventative maintenance plan and provide comprehensive education on pest prevention to keep your property protected all year-round.
Contact Hulett Environmental Services Today
Hulett Environmental Services are the experts to call when you're in need. Additionally, if you haven't experienced a pest problem yet, it's best to give us a call now. We can help develop a treatment plan to keep your home pest-free. To schedule a FREE residential pest control inspection, with no obligation, contact Hulett Environmental Services today.