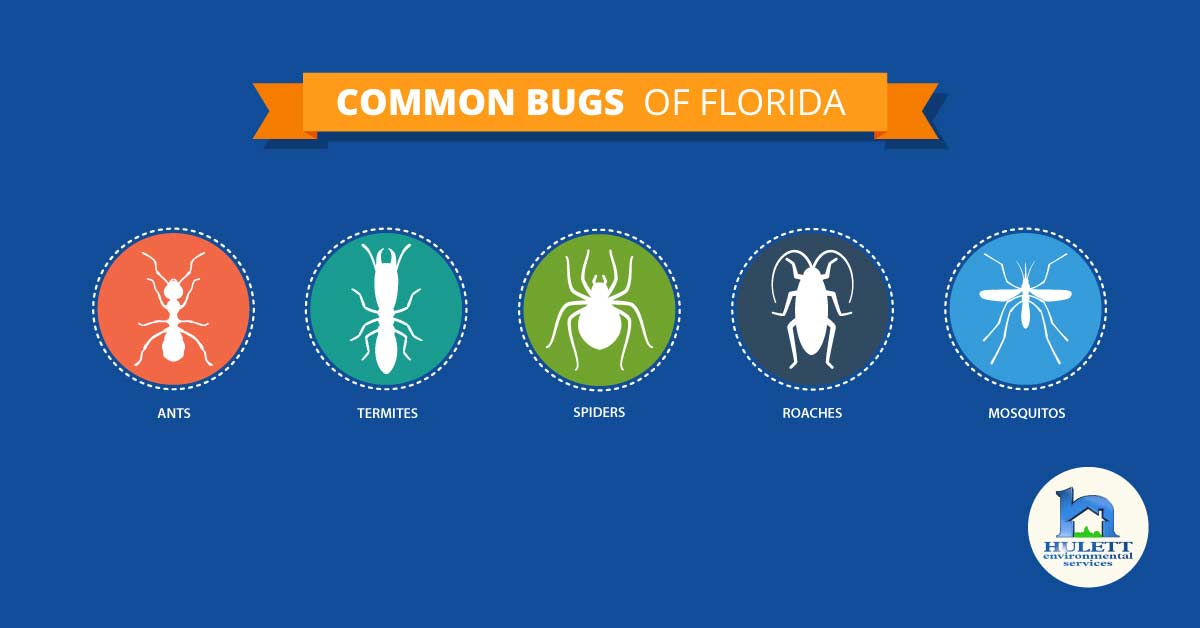 Name this Native Floridian: Common Bugs of FL & What You Need to Know
On a top ten list of reasons people love Florida, her vast variety and copious amounts of insects never makes the cut. However, in addition to her stellar tropical weather, her pristine beaches, world renowned tourist attractions and exotic plant life, the Sunshine State is also home to a wealth of household pests. Hulett Environmental Services wants homeowners to be informed about the most common bugs in Florida and how to prevent them from invading your home. As some of these bugs are invasive species, they are here on a mission and are more aggressive than native species. As many proactive Floridians can tell you, pest prevention is much more desirable than pest control.
Hulett's Healthy Home Guarantee
That's why Hulett's Healthy Home Program focuses on creating a boundary that deters pests from entering your home, removing conditions that attract bugs to your home and maintaining a hostile environment for bugs that may be brought in on pets or clothing or in boxes, firewood and shopping bags. Our innovative Integrated Pest Management (IPM) program uses environmentally-friendly methods and materials, customized for your home, instead of the traditional smelly sprays used by most pest control companies. Homeowners can also help prevent bugs from entering their homes through some common-sense DIY (Do-it-Yourself) pest control practices.
The list of the most common bugs in Florida goes something like this:
Ants
In South Florida, since there are several common types of ants, they tend to be a problem year-round. Here's a closer look at some specific types:
Known for their powerful, burning stings, red imported fire ants, an invasive species from South America, appear reddish-brown and measure 1/8″ to 1/4″ long. Usually preferring to stay away from humans, fire ants build rather obvious mounds in open spaces, such as your backyard. Humans and pets encounter trouble when they inadvertently step on or mow over a fire ant nest. Disturbed fire ants will aggressively swarm intruders and sting repeatedly. Fire ants are notoriously difficult to get rid of. With no natural predators and commercial products that do little to reduce fire ant numbers, the best way to deal with fire ants is to avoid them and call an experienced pest control company, like Hulett.
Florida's largest ant, some measuring 3/4″ long have ash brown to rusty-orange thoraxes and heads and black abdomens. Florida carpenter ants are covered with long, abundant golden hairs all over their bodies and have segmented, elbowed antennae. Often mistaken for wood-damaging black carpenter ants or termites during mating season, when these winged Florida carpenter ants swarm in alarming numbers often alarming homeowners. Nesting in hard to locate places, in wall voids and expansion joints, as well as any place near water and food sources, Florida carpenter ant nests are difficult to find and DIY baits and repellents don't really work effectively. Florida carpenter ants prefer sweets and will nest in almost any place near food and water, so the best way to prevent these pesky bugs from entering your home is to clean up crumbs and spills after sweet snacks, store all sugary foods and other foods in secure containers or in the fridge. Eliminating clutter in your home and around your property can also help prevent Florida carpenter ants from finding your property attractive.  Don't hesitate to call a pest control specialist, such as Hulett, to locate and deal with these hard to find nests.
Subterranean termites:  Asian and Formosan
Two invasive subterranean termites from Southeast Asia, Asian and Formosan termites, are much more aggressive than native subterranean termites and can damage structures at incredibly rapid rates. With populations running in the millions, Asian and Formosan termites have a lot of mouths to feed and all wood is fair game, including utility poles and live trees, as well as the wood in your home. Termites can be difficult to detect because they usually enter your home where wood to ground contact allows them to tunnel into your home. Subterranean termites live in the soil around your home, constructing tunnels from their nests into structures, where they consume as much cellulose (wood) as possible. Spotting these earthen tunnels running up walls, trees and other wooden structures indicates subterranean termite activity and should be addressed by a pest control professional. Armed with expert termite knowledge and over 30 years as a leading South Florida pest control company, Hulett's technicians know where and how to administer termite fighting materials that get to the source of termite populations, the colony's queen. Homeowners can protect against termite activity by ensuring that the wood around the home's foundation doesn't directly contact the soil, replacing damp wood and by getting on board with a termite protection program, such as Hulett's Total Termite Protection program, to safeguard your home from termites, year-round.
Spiders: Wolf and Widows
While Carolina wolf spiders look menacing due to their size, reaching almost an inch in length, they tend to steer clear of human involvement. Carolina wolf spiders feast on other pest insects making them beneficial and the females are known to carry their young on their backs, very maternal. Southern black widow spiders are considered the most venomous spider in the US with venom 15 times more poisonous than rattlesnake venom. The good news is that black widows only attack when disturbed from rock piles and old tree stumps. The best way you can help prevent spider bites is to be aware of potential spider nesting areas and to have your property regularly swept for spiders by a pest control professional.
Cockroaches
In South Florida homes, it is common to find a cockroach from time to time but that does not mean that South Florida homeowners are rolling out the welcome mat for them. House-invading cockroach species vary in color from brown to black and tropical species can be green, orange and other colors. They typically grow to 1½ inches in length and as you may already know, have a strong preference for dark, warm and moist areas. The best way to prevent cockroaches from entering your home is to exclude them by sealing all cracks in your foundation, repairing all water leaks, keeping your house clean of crumbs, spills and clutter, and your trash and recycling receptacles sanitized. However, regular pest control from professionals like those at Hulett should also be considered to keep cockroaches away from your home and family. Some common cockroach species in South Florida are:
American Cockroach
Asian Cockroach
Australian Cockroach
Brown Banded Cockroach
Cuban Cockroach
Florida Woods Cockroach
German Cockroach
Oriental Cockroach
Smoky Brown Cockroach
Surinam Cockroach
Mosquitoes: Yellow Fever, Asian Tiger and Equine Encephalitis mosquitoes
Florida is home to 80 mosquito species, 33 of these species pose threats to humans and animals. In South Florida, the yellow fever mosquito and the Asian tiger mosquito are common vectors of yellow fever and the dengue virus. Culiseta melanura mosquitoes transmit Eastern equine encephalitis, along with Psorophora ciliate, a mosquito species closely associated with floodwater mosquitoes. The Zika virus, which made headlines in 2016 across South Florida, is carried by the same mosquito that carries yellow fever, Chikungunya, and dengue. You can help prevent mosquitoes by eliminating standing water around your property including water that collects in toys, patio furniture, planters, etc. left outside. Removing clutter and debris from your property, cleaning your gutters regularly and correcting moisture prone areas can help reduce mosquito populations. Additionally, you may want to consider Hulett's Mosquito Reduction Program and Mosquito Fogging Service for immediate and effective relief from mosquitoes on your property. Don't let South Florida's common bugs be a constant problem. Contact Hulett to get started on our environmentally responsible programs designed to safeguard your love ones from unwanted visitors. Call us to schedule a free pest inspection today to start getting results with Hulett's Healthy Home program that guarantees your satisfaction. Just call Hulett at (866) 611-BUGS!