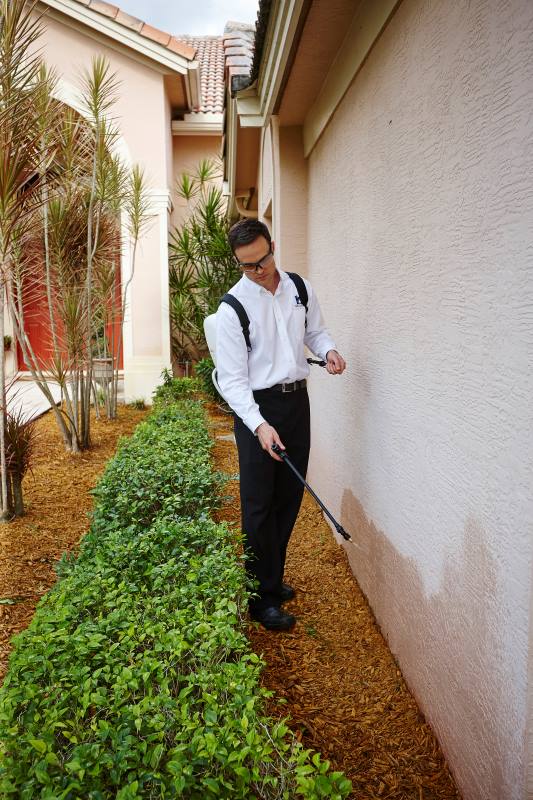 What is Perimeter Pest Control? A Guide for South Florida Homeowners
When it comes to dealing with pests, prevention is always better than searching for a cure. This is where perimeter pest control comes into play. Unlike reactive pest control methods that focus on treating an active infestation, perimeter pest control focuses on preventing insect infestations from occurring in the first place. Additionally, perimeter pest control offers a non-invasive pest treatment option for homeowners.
Understanding Perimeter Pest Control
The central premise of perimeter pest control is simple: most pests can be prevented from entering a well-maintained home through exterior treatment. Trained inspectors are adept at identifying pest-conducive conditions around the outside of a building and carrying out a thorough pest inspection along the foundations, doors, and windows during a perimeter pest inspection. These professionals are skilled at spotting potential pest entry points that might be missed by the untrained eye. They can also identify the pathways, like fence lines, that pests might follow into your home, and concentrate treatments in these areas.
During perimeter control treatments, specialized products are applied as a deterrent, preventing crawling insects from invading your home. The treatment controls pests as they crawl over the treated areas, effectively establishing a protective barrier around your house, without even requiring entry into your home.
In addition to these treatments, specialized granular baits can be used in the perimeter landscape, near trees, ornamental beds, and conducive areas. These baits attract pests away from the home and control them as they feed on it. This technique can often control the colony of ants or exterminate roaches, crickets, earwigs, and beetles, among other pests before they can establish a presence within a home.
The Benefits of Home Perimeter Pest Control
One of the primary benefits of home perimeter pest control is how non-invasive it is for homeowners. There's often no interior drilling or spraying needed, making the process less disruptive than more aggressive interior treatments. With the use of environmentally friendly green products, these exterior home treatments can be low-impact.
Moreover, exterior perimeter treatments are more convenient for homeowners than most interior services because they can be completed without having to schedule a specific appointment. This professional pest control service will not interrupt your schedule, saving you any concerns about leaving a key outside or having to be home to give pest technicians access to the treatment area.
The Limitations of Perimeter Pest Control
Perimeter pest control is an excellent preventative maintenance option but is not designed for serious pest infestations. In most cases, serious home infestations should be treated right at the source, so pest technicians may need access to your home to treat an indoor pest colony. Furthermore, pests like rodents, fleas, ticks, and rodents, can all make their way into your home through hitchhiking on clothing or in belongings, furniture, and boxes you bring into your home. Due to the nature of these treatments, perimeter pest control cannot prevent pests that enter your home in this manner.
If you need help determining the best home pest control solution for you and your family, pest control professionals can help! They can do a thorough inspection of your home and property, and help you determine the right home and lawn pest control option(s).
The Role of Trained Technicians in Perimeter Pest Control
In perimeter Integrated Pest Management (IPM) practices, proper pest identification is essential, as each pest is treated specifically based on its biology, feeding habits, behavior, nesting areas, and the signs and symptoms of an infestation. This knowledge requires thorough training and experience, so working with pest control professionals is a must for effective perimeter pest control.
Just Call Hulett for Perimeter Pest Control for Your South Florida Home
If you're looking for a non-invasive, convenient, and effective method of pest control, consider perimeter pest control. It's a preemptive strike against pests that can save you time, money, and the inconvenience of dealing with an active infestation.
Whether you just have questions about perimeter pest control or are fully ready to set up an exterior pest control plan for your home, the expert team at Hulett Environmental Services is here to help! Our GreenPro and QualityPro-certified team offers green pest control solutions for your home – inside and out, and our pest specialists, trained by board-certified entomologists, can help you determine if perimeter best control is the best option for your property. Just call Hulett or contact us online to set up your free initial inspection.