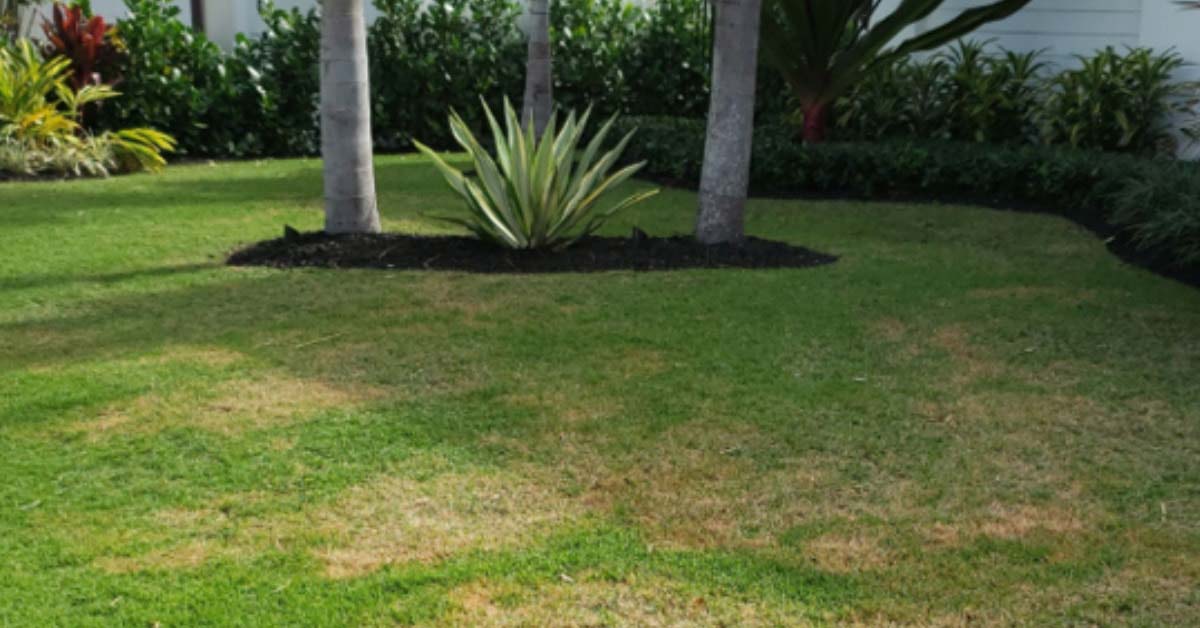 What are these Large Brown Spots in my Yard? Brown Patch Fungus.
Most South Floridians embrace the cool winter weather, if we are lucky. And just as we finish battling Chinch Bugs all summer long, now we have a new problem in our lawns: Brown Patch Fungus. If you notice large circular patches of brown grass in your yard, call Hulett Environmental Services today to identify the disease, and discuss the proper treatment program to remedy your lawn. Hulett Environmental Services is a family-owned Pest Control company that has serviced locally in South Florida for over Fifty years. Not only does Hulett Environmental Services specialize in Pest Control and Termite Control, but they are also your one-stop-shop for Lawn and Ornamental Care, including fertilization and control of insects, disease, and weeds. Below are helpful techniques to prevent Brown Patch Fungus, and signs of symptoms that your turf may be infected.
What Is Brown Patch Fungus?
Brown Patch Fungus, also referred to as Large Patch, is a fungal disease commonly seen in South Florida lawns during the cooler months, particularly St. Augustine and zoysia grass. Typically observed from November – May in temperatures less than 80 degrees, turf in South Florida is most vulnerable to Brown Patch Fungus when rainfall, high humidity, or excessive irrigation leave the turf damp for a duration of more than 48 hours. The fungus, Rhizoctonia, can be identified by the presence of small brown patches in the turf. These patches are often only 1 ft. in diameter, initially, but if untreated, can enlarge and quickly spread across the lawn in entirety. The patches are often circular, but can also be irregular in shape, and the dull-brown coloration of the patch is often outlined with an orange-brown or yellow-brown "halo". This disease can also be seen as a yellow-brown ring, rather than a patch, with the inner turf appearing healthy. However, the fungus will infect and rot the leaf base, killing the leaf. If you see any of these signs or symptoms, it is very important to call a Professional Lawn and Ornamental Company right away, as proper identification of damage is the first step of achieving a healthy and green lawn.
Signs of Brown Patch Fungus in Your Lawn
There are many potential causes of turf damage in the South Florida landscape, from improper mowing height or irrigation, various lawn pests or diseases, nutritional deficiencies, improper application of herbicides or fertilizers, etc. Each of these receiving a specific recommendation or treatment program, making a correct diagnosis of the issue crucial. Incorrect diagnosis and treatment may worsen the damage. For these reasons, it is not recommended that a homeowner attempt to apply product without a proper diagnosis. Hulett Environmental Services will complete a total inspection of your landscape and discuss with you the correct treatment program to get your lawn back on track, before a complete re-sod is needed. Unfortunately, this disease will not go away on its own. The symptoms may reside when the temperatures increase, but the disease itself is still present, and the symptoms will return when the conducive conditions return, often more severe. For this reason, it is important to call a professional for treatment before the disease spreads.
How to Get Rid of Brown Patch Fungus on Lawn
There are some helpful techniques to reduce the chances of being infected by Brown Patch Fungus, or limit and manage the disease. A healthy turf is much more resistant to disease. By watering your lawn on an as needed basis, rather than just a set schedule, and considering the time of year and rainfall, you can better manage your turf to ensure it is receiving the proper amount of water. Frequent mowing at the recommended mow height is critical to the health of the turf. It is very important that your turf is not cut too short, or "scalped". Design your landscape so the turf receives the proper amount of shade. And lastly, proper fertilization from a professional can keep your turf thick, green, and healthy. Maintaining a healthy landscape will make your lawn much less susceptible to disease. To hear more about the specific needs of your landscape, call Hulett Environmental Services for a free diagnosis and recommendation. However, sometimes even with the best landscape management, disease cannot be prevented, and professional treatment is needed.
How To Treat Brown Patch Fungus
Brown Patch Fungus is a fungal infection of the turf. As such, it is treated with a specialized fungicide that is designed to inhibit the growth of fungi, and prevent the disease from spreading to the healthy portions of the turf. In addition to making sure your damage is identified correctly, it is critical to select the right products, and apply them in the correct manner. If treated with the wrong products, the disease may worsen. For these reasons, it is very important to contact a professional to discuss with you the most appropriate treatment plan, and any conditions present that may be contributing to your susceptibility to Brown Patch Fungus. Brown patch fungus treatment by trained specialists with professional-grade products will ensure your lawn is treated effectively, and you are getting the best treatment, the first time around. To ensure the prevention of disease and insect pests, a regularly scheduled Lawn and Ornamental Service will keep your landscape healthy and looking good, all year round.
Ask the Hulett Experts
Are you concerned about the health of your lawn, or worried that you may have Brown Patch Fungus? Contact us today. We offer several convenient options to help you determine if your yard is in danger, and will then advise you on the best course of treatment. Your lawn can be lush and green again in no time, if Brown Patch Fungus is treated correctly.
First, schedule an entirely free lawn inspection with our experts with zero obligation. We will come to your home and look at any areas of concern. Our experts are trained by a fully state certified and licensed operator to recognize a wide variety of lawn diseases, as well as Brown Patch Fungus. They will identify the condition accurately, provide you with our best recommendation, and schedule your new program to begin as soon as possible.
If you are battling lawn problems, and want to know how to get rid of Brown Patch Fungus on your lawn, call or contact Hulett Environmental Services to get started on diagnosing and treating your lawn today!