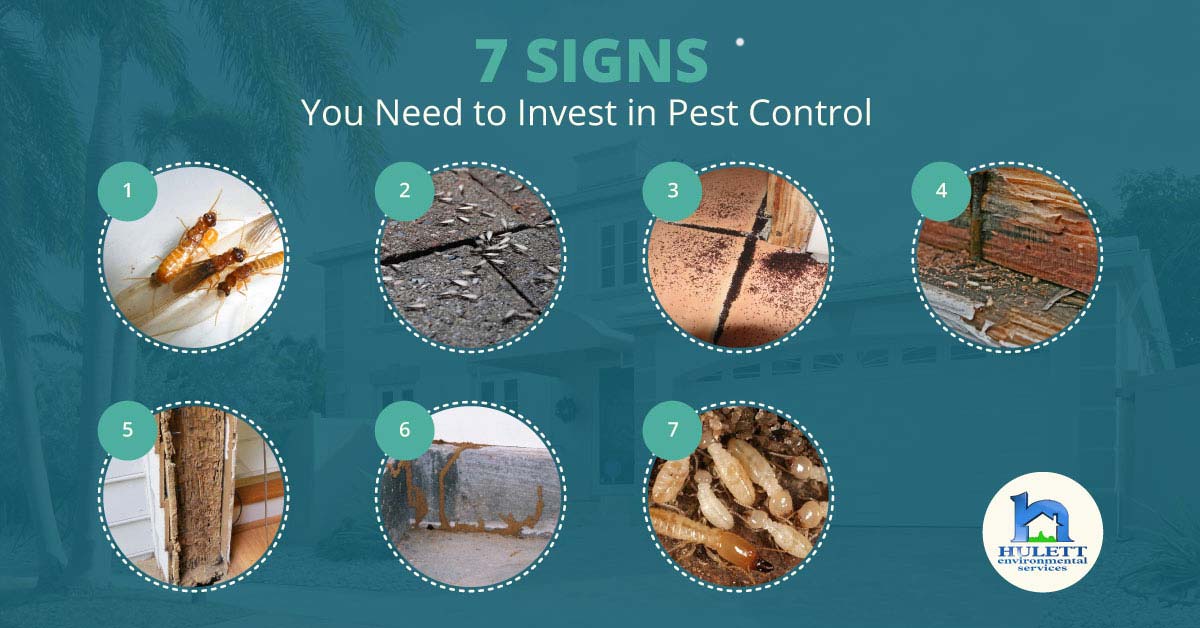 7 Signs You Need to Invest in Pest Control
As South Floridians know, termites love the warm and humid climate, as much as they do. Even worse, drywood, dampwood and several species of native and invasive subterranean termites are predicted by University of Florida researchers to affect over half of the structures in Florida by 2040 if their numbers continue to increase their current trajectories. Further, some researchers believe that due to warming trends, two aggressive species, the Asian subterranean and the Formosan subterranean termite may have already created a super hybrid poised to cause extensive damage to the Greater Miami-Dade, Broward and Palm Beach area as well, in the near future. Hulett encourages homeowners to take proactive preventive steps to deter termites Due to your location in a subtropical paradise, Hulett Environmental Services strongly encourages South Florida homeowners to contact a professional pest control company, preferably one dedicated to pet and people friendly practices and materials for a free termite inspection and to get started on a guaranteed, termite prevention plan. Termite damage can go unnoticed until extensive damage leads to expensive repairs Termites can go unnoticed for quite some time, as they tend to build nests in dark places, in areas of your home where you may not see them. Entering your home through cracks and crevices in your foundation, some termites carve out galleries in your walls, eating the wood in that area as they burrow. Subterranean termites don't live in your walls but travel back and forth from your home to underground nests via mud tunnels they build to transport food to their nests. Spotting termite activity isn't as straightforward as one might think. Below we listed some tell-tale signs to tip you off to potential termite activity.
Signs of a termite infestation
Swarming
Especially in the spring and summer, young reproductives fly around as part of their mating ritual.
Often confused with flying ants, termite alates are the only termite stage to possess wings.
Although similar to ants, termites have wide bodies, whereas flying ants sport pinched waists.
With two sets of identical upper and lower wings, termite wings are twice as large as their bodies, as opposed to more body proportionate flying ant wings.
The lower pair of flying ant wings appears smaller than their upper set of wings.
Wings found on floors, on windowsills and in light fixtures
After alates swarm in search of mates in order to begin building new nests, they shed their wings.
Wings found outside your home should alert you to the potential for termites living in the wood near your home.
Wings found indoors mean it's time for you to start searching for the source of the wings and a termite issue.
Evidence of "frass"
When termites burrow into the wood in your home, they leave behind tell-tale signs of feasting on your wood, in fecal matter, known as frass that resembles sawdust.
Drywood termites drill knockout holes in wood to discard frass.
Tiny holes in home furnishings may point to termite activity.
If, after removing piles of frass from a particular area, the frass reappears, signs point to an active termite infestation.
Carpenter ants also burrow through wood to make their nests but do not eat wood.
Warped or buckling walls
As drywood termites make themselves at home in your walls, they compromise the structural integrity of wood fibers and drywall construction.
Cavities caused by termites hollowing out spaces in walls cause walls to buckle and appear water damaged.
Flooring, including hardwood and laminates can show signs of subterranean termite infestations, buckling and warping flooring.
Sagging floors and hollow walls
In addition to buckling and warping, sagging floors and hollow walls indicate long term termite activity.
Test for hollow walls by tapping on walls. Termite affected walls sound hollow or like tapping on paper.
Sometimes termite infestations are discovered when light pressure exerted on walls, doors and molding creates holes or give way to hollow spaces.
Sagging floors might not be evident to homeowners as termites initially damage subflooring which is out of sight.
If termite damage isn't addressed in time, severe structural damage can affect the value of your home.
By the time termites cause expensive structural damage, your infestation may be so large it will be almost impossible to eradicate.
Mud tubes near the foundation of your home
Subterranean termite activity can be detected by the presence of dirt piles in unusual places near your foundation inside and outside your home.
Because subterranean termites develop massive colonies underground, they build networks of mud tubes that can be seen near your home's foundation.
Not only do the signature mud tubes act as central roadways for workers hauling food back to nests, they protect termites from exposure to the sun and predators.
Termite sounds
Although subtle, termites do make sounds inside walls.
Termites cannot hear or emit audible vocal sounds but soldiers will bang their heads inside tunnels when disturbed or threatened, creating a rapid, clicking sound.
Worker termites, wielding massive mandibles can be heard chewing wood, when you place your ear to a termite-infested wall.
These sounds may be difficult to detect, as termites prefer softer interior wood inside timbers, below the surface
If you suspect termite activity in your home, you are advised to act immediately to eliminate a current infestation and get started on termite-proofing your South Florida home. Many insurance companies warn against taking on termites yourself. Subterranean termites, when under threat may spread out, creating new colonies that may also affect not only your home but your neighbor's, as well. In South Florida, termites cause more damage to homes than fires, tornadoes and hurricanes. An annual termite protection program not only protects your home now but helps preserve the value of your home should you decide to sell your home down the road. Hulett's people- and pet-friendly, environmentally responsible solutions to your pest control needs form the foundation of our Healthy Home approach. Contact us to schedule a free termite inspection and to find out more about our Termite Protection Plan that efficiently eliminates termites and other pests that currently threaten your home and your family's well-being.